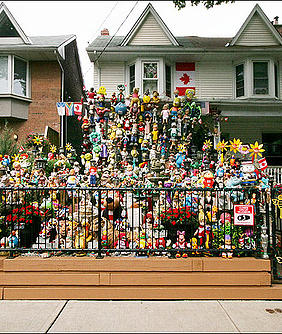 walking around various neighbourhoods walking dunkel, i often get pulled in various directions...mostly due to interesting scents, but it forces me to slow down and smell the __________ and appreciate local curbside attractions.
i believe curb appeal is a very important element for an overall house experience, especially if you are preparing your house for sale.
picture this: walk up to a house forsale showcasing lovely potted plants, a painted porch with inviting chairs, a stylish address plate and matching mailbox. not to mention a clean walk way, window shutters in tact and gutters cleaned. very inviting isn't it? makes you want to see more eh? congratulations, with a few improvements and accessories, you have accomplished what you wanted.
now picture the same house for sale, with a cracked flagstone walk-way taken over by weeds, peeling and chipped paint on the porch, a broken mail box overflowing with flyers and a rusted table and chair set with an ever so inviting ashtray full of butts from the last month.
considering this house is not being sold 'AS IS', are you excited to see more? does it cross your mind that if the exterior of the house is not in ship shape that the interior might be a disaster as well? or even worse, that the seller has simply put "lipstick on a pig" giving the illusion that the house has been well maintained.
when considering buying a home, it is important to look at the entire building envelope and not just the shiny bowl of green apples and white waffle shower curtain.